Relax with a door to door transfer by private taxi car or minibus
We are pleased to be able to arrange your transfer by private taxi car or minibus between Koh Chang and all destinations in Thailand. We try to offer a reliable and relaxing service at a competitive price.
All of our drivers are instructed to be courteous and above all to drive at a safe speed, so we won't be telling you that the transfer time from Bangkok to Koh Chang is 3 hours. We treat complaints about misbehaving drivers very seriously, and rude or dangerous drivers will not drive for us again. Our prices include all highway tolls and ferry tickets.
Transfers into Koh Chang
To book a transfer into Koh Chang, please send us an email, giving us the number of passengers, the date, the time, the destination, the flight number, or pickup hotel, which ever is applicable. We'll then try to give you a firm quote within 24 Hours. There is no need to pay any deposit - we will collect your payment when you arrive on Koh Chang.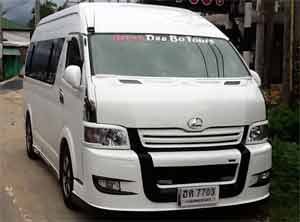 Details on this procedure will be explained with your quotation and finally with your transfer voucher, which is sent to you by email. Meeting instructions will be clearly explained for your particular meeting point (hotel lobby, private house, airport arrival door etc).
Price guide for Popular Routes
Bangkok International Airport (Suvarnabhumi) to Koh Chang
From 4,000 THB
Bangkok City to Koh Chang
From 4,200 THB
Bangkok Regional Airport (Don Muang) to Koh Chang
From 4,300 THB
Pattaya to Koh Chang
From 3,400 THB
Ban Phe (for Koh Samet) to Koh Chang
From 3,200 THB
Trat Airport to Koh Chang
From 1,800 THB
Aranyaprathet (Cambodian Border) to Koh Chang
From 3,300 THB
Trips in the opposite direction will usually cost the same.
Prices given are for car transfer with one passenger. Generally, extra passengers, add 150 baht per person, up to 3 passengers. Typical car is similar to a Bangkok taxi. Please let us know how much luggage you expect to be carrying, and we will try to ensure you're not holding your big suitcase on your lap in the back seat.
Minibuses will be used for 4 or more passengers, sometimes for fewer, and there is usually an additional charge of 400 baht for the minibus. Price example of 4 passengers from Bangkok Airport to Koh Chang = 4,000 + 400 + 450 = 4,850 approx. We sometimes use a minibus even for 2 people - in fact our quote for even one pax will read "transfer by private car or private minibus". In these cases, 400 Baht is not added. (Hope all of this is not confusing you - we just try to give you a fair price). Other companies offer flat rates so 4 pax pay the same as 7 pax - that's just not fair in our book.
We try to be competitive on price, so we do regularly adjust for gasoline retail price variations. Obviously, sometimes we will adjust prices upward from these guideline prices. This may be due to high demand for minibuses at a particular time, increase in fuel price, ferry price etc etc.
Prices include Koh Chang ferry crossing and transfer to/from your resort. Highway charges are included too. There are no hidden extras.
Return trip prices booked in advance are usually double the one-way price minus 200 baht. So, the example above would be 9,700 - 200 = 9,500. This will only apply when you have given us a confirmed return date prior to your travel.
Luxury VIP Private Transfer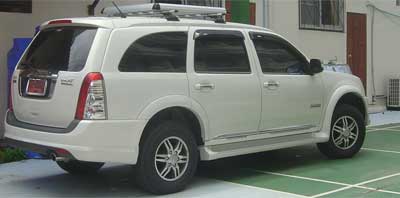 For a small surcharge over the above prices, you can take one of our VIP vehicles. A 7-seater or an 11-seater MPV, each come with an English speaking driver, your own choice of movies and music (ask us in advance for your personal choices!), split area air-conditioning, and fully fitted with safety belts. Wifi internet connection is also available on request. Note, the seating capacity is nominal, describing the model only. We suggest a maximum passenger count of 3 for the 7 seater, and 6 for the 11 seater. This is owing to space required for your baggage and your overall comfort on a long journey.