Relax with a door to door transfer by private taxi car or minibus
Koh Chang Private transfers
We are pleased to be able to arrange your transfer by private taxi car or minibus between Koh Chang and all destinations in Thailand, and indeed between destinations other than Koh Chang. We have been bringing happy customers to Koh Chang since 2004 when our Travel Agency first opened up in Chai Chet on the island. Since establishing our website in 2007 the number of satisfied customers has grown year by year and our records show that the number of happy passengers has now reached more than 20,000.
We try to offer a reliable and relaxing service at a competitive price. All of our drivers are instructed to be courteous and above all to drive at a safe speed, so we won't be telling you that the transfer time from Bangkok to Koh Chang is 3 hours. We treat complaints about misbehaving drivers very seriously, and rude or dangerous drivers will not drive for us again. Our prices include all expressway tolls and ferry tickets - there won't be any surprise extras for you to pay.
Private Transfer - compared with the alternatives, it really is the smart choice !
Looking at the transfer options between Bangkok city and Koh Chang there are essentially 3 alternatives to the door-to-door private transfer.
Cheap buses from bus stations to Trat or the pier. These are generally costing approximately 280THB per person. You have to get to a pick-up place, eg Ekamai, Kao San Road, Victory Monument, and you have to buy your own ferry tickets and taxi fare on Koh Chang, so you may be paying 500THB per person. Our door-to-door private minibus will work out close to this price if you're in a large group and will be much more convenient. If you're in a big group of 9 it works out at 5,400 baht, or 600 baht per person.
Hotel-to-hotel Joining minibuses. Like we offer from our website here, these will take you from your hotel in Bangkok to your hotel on Koh Chang for 900THB, ferry ticket included. Pick up time is fixed, and only central Bangkok hotels are on the pick up route. Great option if there are 4 or fewer passengers. 5 or more of you and you'll be paying almost the same as for a private transfer, and you'll get flexibility on pick up time with the private option.
Flying. Expensive at at least 2,500THB per person. Add on the extra commute time between Suvarnabhumi Airport and your city hotel, check-in time, baggage collection time, then the private transfer time comes in nearly as fast as the flying time. Plus much cheaper if there are 2 or more of you.
Private Transfers to Koh Chang
To book a transfer into Koh Chang, please send us an email, giving us the number of passengers, the ages of any children, the date, the time, the destination, the flight number, or pickup hotel, which ever is applicable. We'll then try to give you a firm quote within 12 Hours. There is usually no need to pay any deposit - we will collect your payment when you arrive on Koh Chang.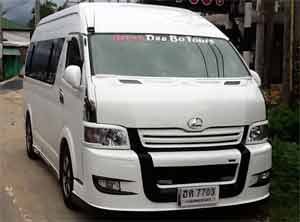 Details on this procedure will be explained with your quotation and finally with your transfer voucher, which is sent to you by email. Meeting instructions will be clearly explained for your particular meeting point (hotel lobby, private house, airport arrival door etc).
Prices for Koh Chang Private Transfers
From/To Koh Chang
Car
Minibus
Duration to pier for Koh Chang
Bangkok International Airport (Suvarnabhumi)
4,000 THB
4,800 THB
4 hours
Bangkok City
4,100 THB
4,900 THB
5 hours
Bangkok Regional Airport (Don Muang)
4,300 THB
5,100 THB
5.5 hours
Pattaya
3,400 THB
4,200 THB
3.5 hours
Utapao Airport
3,300 THB
4,100 THB
3.5 hours
Ban Phe (for Koh Samet)
3,200 THB
4,000 THB
3 hours
Trat Airport
1,800 THB
2,500 THB
20 mins
Laem Ngop (Pier for Koh Mak)
1,800 THB
2,500 THB
20 mins
Laem Sok (Pier for Koh Kood)
2,000 THB
2,600 THB
50 mins
Khao Yai
5,800 THB
6,600 THB
6 hours
Hua Hin
6,500 THB
7,500 THB
7 hours
Kanchanaburi
6,500 THB
7,500 THB
6.5 hours
Aranyaprathet (Cambodian Border, Poipet)
3,400 THB
4,200 THB
4 hours
Had Lek (Cambodian Border, Koh Kong)
2,800 THB
3,300 THB
2.5 hours
Ban Pakard (Cambodian Border, Pailin)
2,900 THB
3,500 THB
2.5 hours
Prices include drop-off at your hotel anywhere on Koh Chang as along as it has vehicular access. Some hotels (eg North Whitesands Beach and Klong Koi Beach, Bang Bao) do not have any vehicular access or have limited access during the rainy season. There may be a short walk along the beach, or you must arrange for a final transfer with the hotel in these cases - we'll let you know if this is going to be a possibility.
One-way trips in the opposite direction will usually cost the same.
Prices given are for car transfer with 1 passenger and minibus transfer with 4 passengers. Generally, for extra passengers, add 100 baht per person. Typical car is a sedan, similar to a Bangkok taxi. Please let us know how much luggage you expect to be carrying, and we will try to ensure you're not holding your big suitcase on your lap in the back seat.
Children. Ages 6 and below can travel free on the ferry so are not included as passengers for price calculation, but are included as a basis for recommended vehicle size (for example, 2 adults plus 2 free children, Suvarnabhumi to Koh Chang should be given a minibus for a price of 4,600 baht). One child seat (suitable for ages up to 4 years) can be provided free of charge. If you need another one then it will cost 300 baht.
7-seater MPV's are also available and might be provided as a free upgrade where a sedan car has been booked. These are also available for booking, for an additional 200 baht over the sedan price and can sit 4 passengers and baggage in comfort.
Minibuses will be used for 4 or more passengers, sometimes for fewer, and the prices shown are for 4 passengers. Extra passengers above 4, up to 9 in total, will each cost 100 baht. We will sometimes use a minibus even when 2 people have booked a sedan car - the price will be as for the sedan car.
We try to be competitive on price, so we do regularly adjust for gasoline retail price variations. Obviously, sometimes we will adjust prices upward from these guideline prices. This may be due to high demand for minibuses at a particular time, increase in fuel price, ferry price etc etc.
Prices include Koh Chang ferry crossing and transfer to/from your resort. Expressway tolls and any parking fees and all taxes are included too. There will be no hidden extras.
Return trip prices booked in advance are usually double the one-way price minus 200 baht.
By default, payment is made with cash on arrival in Koh Chang. Where the origin is one of the Cambodian border crossings, we usually ask for a deposit payment to be sent by Paypal. If you prefer to do so you can pay in advance for any transfer; just ask for that option and we'll send you the payment instructions.
Transfer times given are approximate for between the mainland pier and the origin. If coming to Koh Chang, then you need to be departing your origin with sufficient time to be arriving at the pier by 18:30, good time for the last ferry. Overnight transfers are possible, and the first ferry to Koh Chang is at 06:30. There may be a surcharge for an overnight transfer. Pick ups for departure from Koh Chang can be between 05:30 and 18:00hrs.
Please ask us for a quotation for any route not shown.
Your private transfer to Koh Chang - what to expect during the trip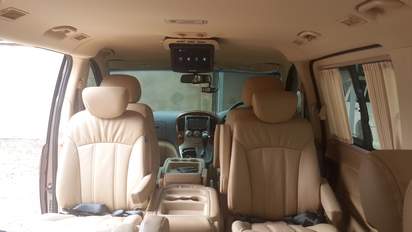 Pick up will be as per the instructions provided with your transfer voucher. Your driver will meet you at the designated place and the vehicle might be a short walk away from there (for example at airports).
Your driver is not expected to act as a guide so will not offer a running commentary during your trip and hopefully you'll be able to relax or take a nap.
A wireless internet connection may be available during your transfer - if this is important for you then please ask in advance.
Audio and video playbeack systems are available on some vehicles - if this is important for you then please ask in advance.
If you want to make a stop during the trip, then just ask the driver; there are numberous service areas with cafes and toilet facilities on the main route to Koh Chang.
Please look at the prices table above which shows the expected duration for your trip to the pier for Koh Chang; these times do not include stoppage time and there will usually be at least one re-fuelling stop.
Ferry to Koh Chang - It's not possible to reserve any particular ferry crossing, so there is an inevitable wait for the ferry. It's possible that the waiting time can be as much as 2 hours or even more. There are 2 reasons for an extended waiting period - high season, busy time, long queue of cars; or low season, low tide, boats out of service, wait for boat to be filled with vehicles. Generally, expect to be waiting for boarding for between 15 and 45 minutes.
Whilst on the boat, you should get out of your vehicle and return to it shortly before arrival at Koh Chang. After arrival on Koh Chang, you'll have a trip of between 5 and 50 minutes depending upon the location of your destination.
Stops and detours during your transfer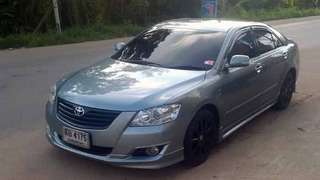 Please let us know in advance if you want to make any particular stop-over during your trip.
We'll usually be passing by supermarkets, banks and ATMs, and a short stop at any of these can be made with no additional charge.
There are ATMs and money change booths on Koh Chang, and the rates are no different to those found at mainland bank branches, and the driver can stop at one of these if you need cash for payment.
If you want to make a significant stop-over, for example at Oasis in Laem Sing to swim with dolphins, then please let us know in advance and we'll quote for you.
Private Transfers from Koh Chang
These can also be booked online by sending us an email and the prices for the popular routes are the same as those given for transfers into Koh Chang (above). If you're already on the island, then email contact with us is fine, or call us, but you may like to visit our office for booking also. We're also happy to visit you in your Koh Chang hotel to discuss all of your transfer options.
Private Transfers between destinations other than Koh Chang
Prices for other (non-Koh Chang) Private Transfers
Route
Car
Minibus
Bangkok International Airport (Suvarnabhumi) from/to Pattaya
1,900 THB
2,400 THB
Bangkok City from/to Pattaya
2,000 THB
2,500 THB
Bangkok Regional Airport (Don Muang) from/to Pattaya
2,200 THB
2,700 THB
Bangkok International Airport (Suvarnabhumi) from/to Hua Hin
3,500 THB
4,000 THB
Bangkok City from/to Hua Hin
3,600 THB
4,100 THB
Bangkok Regional Airport (Don Muang) from/to Hua Hin
3,800 THB
4,300 THB
Please ask us for a quotation for any route not shown.
Our drivers and our vehicles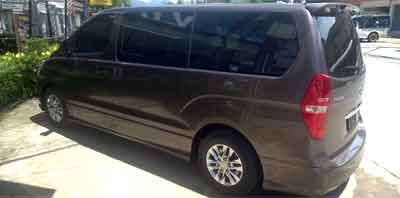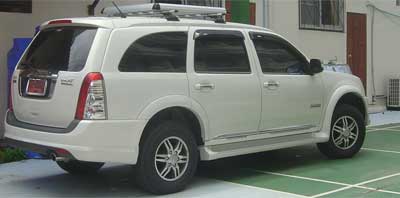 We have 2 drivers who work for us driving our own vehicles. When needed we outsource to a group of locally based drivers who have been working with us for a number of years.
Your vehicle will be one of sedan car (Toyota Altis, Toyota Camry etc), 7-seater (such as a Toyota Innova or Isuzu MU7), large MPV such as a Hyundai H1, Toyota Commuter Minibus with 3 rows of seats, each with 3 seats behind the driver. The regular minibuses are powered by natural gas and these have sufficient space in the rear for baggage of up to 9 passengers.
Diesel powered minibuses are also available and with the extra rear storage space, they can hold up to 11 passengers and their baggage. The price is higher for these - please ask us for a quotation if your group size is 10 or 11.
Huge group size ? Ask us and we'll supply a convoy of 10 minivans if need be !