Sorry - Since February 2020 this trek is no longer available
Your guide on this trek is Mr Tan. The trek begins at 9:00AM in the village of Klong Prao. You will take a well prepared track inland and on the way you should see some of the plants, trees and rubber plantations that only exist in the undeveloped interior of Koh Chang.
Key Points: Pick up time: 08:30. Drop off time: 12:30. Price: 600THB. Kids: Half price. Days: Thursday only.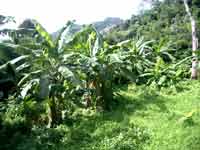 If you are traveling with young children, or if you're just looking for a gentle introduction to Koh Chang's jungle, then this easy trek is for you. After making the trek you should now understand how the rubber trees are tapped and how the rubber is collected. There are no steep climbs on this trek, most of the trail being level, but you will catch some great views of the mountains of the interior of the island. During the trek there will be a stop at a waterhole in the Klong Plu river where you can take a refreshing swim in the cooling waters, so dont forget to come prepared for that swim. The trek finishes at the Chang Chutiman elephant camp where you can feed the elephants and relax with a snack before you're taken back to your resort by car.

Appropriate footware is essential, and you should also bring some mosquito repellent, sun cream, a swimming costume, a towel and light clothing.

This tour usually goes on Thursdays only, but on request this can be changed to another day and if available can also be taken in afternoons.

Usual price is 600 baht, but discounts are sometimes available.

Duration 3-4 hours.
Pickup time is around 8:30AM
Drop-off time is around 12:30PM