Take one of our boats to visit the beautiful Koh Chang marine national park.
Our daily four islands trip will introduce you to delights of the Koh Rang archipelago. To explore further, you can take a private boat charter to visit those or any others of the 52 islands that make up the Koh Chang Marine National Park.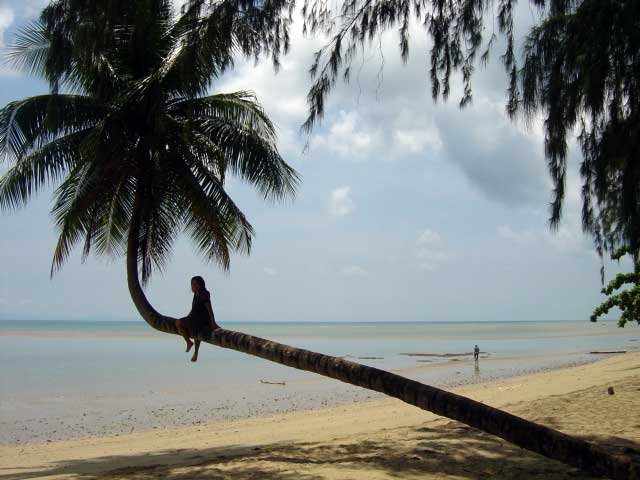 A short distance off the South East coast of Koh Chang lies Koh Ngam. It is an island almost split in two by a stretch of sand that is only a few meters wide. A white sand beach faces Koh Chang to the North, and there is a now disused resort lying here.
Again, to the south of Koh Chang, there lies a small group of islands called Koh Lao Ya. As well as Koh Lao Ya Nai, there is Koh Lao Ya Klang, and Koh Lao Ya Nok. Beautiful beaches, excellent snorkeling opportunities exist here, and it is possible to stay at the Lao Yo Resort here. Some of our island excursions will make a stop at Koh Laoya.
Just south of Salakphet on Koh Chang lies 2 small islands, Koh Phrao and Koh Sai Khao. A beautiful scene of coconut trees along white sandy beach is presented from offshore.
A little further to the south lies Koh Klum. Our 4 island cruise will pass close to this island every day. Around this island the French and Thai navies fought a battle, and off the island there lies a wreck of a battleship. Around the island are good snorkeling, diving and fishing areas where deep lying multi-coloured coral formations can be seen by scuba divers.
Further to the South, and visible from our 4 island cruise, lies the island of Koh Wai. There are several resorts on this island, although there are no roads. The resorts take guests off boats at piers that lie close the resorts. Beautiful white sand beaches are on Koh Wai, and a short swim from these beaches some beautiful corals and tropical fish may be seen. Koh Wai is a good destination for a day trip, as food and accommodation can be taken from the resorts that lie on the beaches. Good fishing can be found around Koh Wai. Many of the snorkeling trips from Koh Chang make a stop at Koh Wai.

South East from Koh Wai lies the flat island of Koh Mak. Here we have low lying wide sandy beaches, fringed with many coconut trees. Coconut trees and rubber plantations can be found in the interior of Koh Mak. There are good tracks on Koh Mak and the island can be easily explored by motor cycle or mountain bike. Around the north and south coasts there are a number of resorts where accommodation can be booked for your stay. Cafes, small shops and a couple of dive shops are easy to find. There is good snorkelling with corals on the north coast. The south coast is more sandy with wide coconut tree-lined beaches. Kayaks can easily be rented here for your trips to the neighboring small islands such as Koh Kham and Koh Rayang. Daily snorkeling trips stop for lunch at Koh Mak.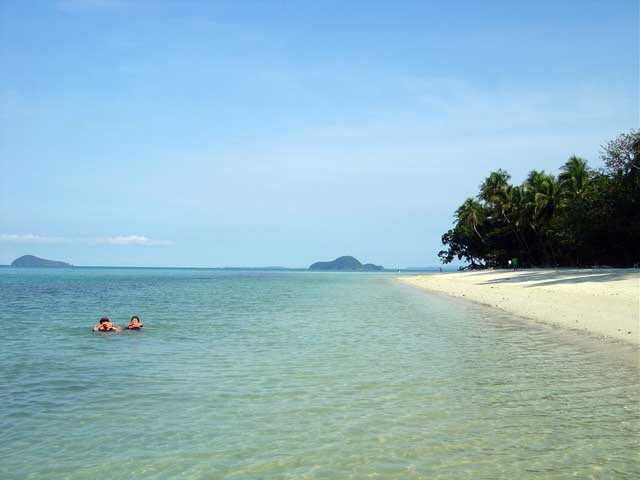 A few hundred meters to the north west of Koh Mak lies Koh Kham. At low tide it is possible to walk there from Koh Mak. A single sandy beach here offers the best of everything: white sand, corals, pebbles and black rocks which lie in the sand, appearing to grow upwards to the sky. There is excellent snorkelling from this beach which faces Koh Mak. The Koh Kham resort is the only building on this small island, and it is a lovely retreat if you need a couple of days away from the crowds. Kayaks and snorkeling equipment can be hired from the resort. It is easy to take your kayak around the island to see the rocky north coast. Update: In 2008, the island was sold, and the original Koh Kham Resort was closed. A new luxury resort is currently under construction. It is still possible to make an excursion to Koh Kham beach.
Just off the south west coast of Koh Mak lies the pair of islands Koh Rayang Nai and Koh Rayang Nok. On Koh Rayang Nok, there is a small resort where overnight accommodation may be taken. Good snorkeling and kayaks are available from the resort which lies on a clean sandy beach with clear waters and coral reefs.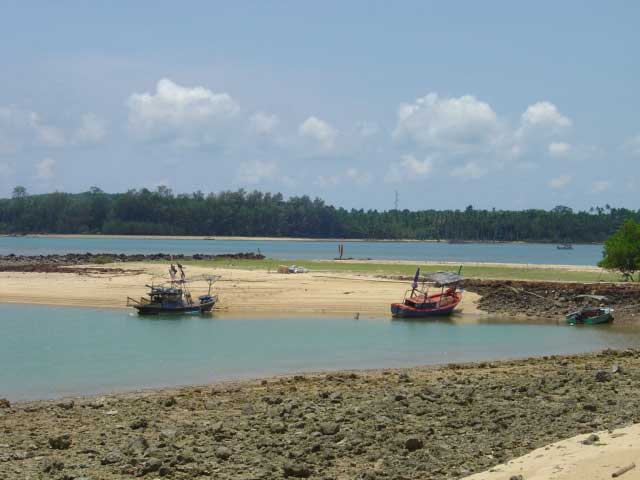 Off the north east coast of Koh Mak, there is the small island of Koh Kradad. Kradad trees are in abundance on this island, and from those the island has taken its' name. A herd of 2,000 wild deer live on this island. A visit to the island is recommended for good snorkeling in peace and solitude, because there are no resorts upon the island. One of the 5 islands snorkeling trips makes a stop here for lunch. Here, you will also make an excursion by tractor into the centre of the island where many wild deer can be seen.
Away from Koh Mak and to the west, nearby Koh Rang, is the very small island of Koh Kra. Our 4 islands day trip makes its' first stop in the shallow waters off Koh Kra every day. The snorkeling and diving conditions here are first class. Corals can be seen at depths of up to 10 meters or so, and multi-colored tropical fish and manta rays can often be seen in the surrounding waters.
South from Koh Kra, and just off the east coast of Koh Rang there lies a handful of small islands where fantastic snorkeling and diving can be experienced. Our 4 islands daily trip makes stops at two of these small islands, namely Koh Map Ring and Koh Yak Lek.
Further to the west from Koh Kra is Koh Rang. This is a much larger island, though being so rocky, there has been no development here. Consequently, it is an ideal place to visit for beautiful and quiet relaxation on the sandy beach. Excellent snorkeling off the beach is possible, and many diving boats visit the surrounding rocky outcrops for superb diving in clear waters. There are protected birds and other wildlife in habitation on the island. Our daily 4 islands and 5 islands snorkeling trips trip make stops on and around Koh Rang. Here for one hour you can relax on the sandy beach, or snorkel to the outlying rocky outcrops where multi-colored corals and tropical fish can be seen in abundance.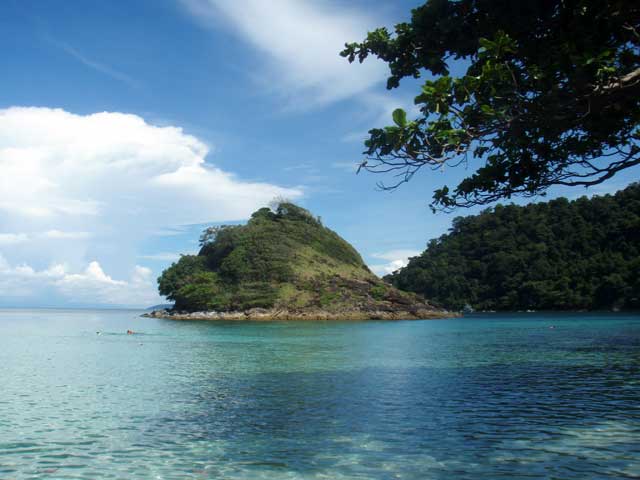 The outermost island (from Koh Chang) of the Koh Chang Marine National Park is Koh Kood (Koh Kut). This is the 4th largest island that belongs to Thailand, and second in size, after Koh Chang in the National Park. Koh Kood is similar in geography and landscape to Koh Chang, being mountainous in the interior. There are rainforests and waterfalls in abundance inside the island. The best waterfall is Nam Tok Klong Chao in the middle of the island on the river that flows to the west coast at Ta Phao beach. There is a large pool at the base of the fall and swimming here is a delight. You can arrange to be taken by jeep from all of the resorts on the west coast, then it is a short walk to the falls. Other beautiful beaches on this west coast are Klong Yai Kee, Klong Chao, and Ao Bang Bao beaches. These have white sand and small stones, and corals a few meters off the shore. Ideal for snorkeling, and canoeing. West facing, you can observe beautiful sunsets from the few resorts that line this stretch of coastline in the south west of the island. In the north of the island are a couple of small fishing villages, connected by reasonable roads. The roads in the south are non-existant, but jeeps will transport you across the south via dirt tracks and dry river beds.