The Blue Lagoon Cooking Cooking school is located at the Blue Lagoon Resort in Klong Prao and has been in business since the year 2000. Here you will learn about growing Thai ingredients, preparing them, cooking them, and presenting them in the traditional Thai style. Finally you will be able to eat the Thai dishes that you have prepared.
Key Points: Pick up time: 09:30. Drop off time: 15:30. Lunch: eat what you cook. Price: 1,800THB.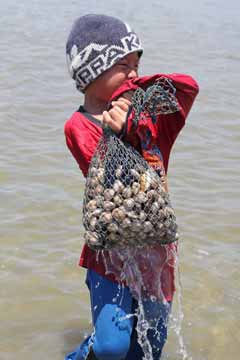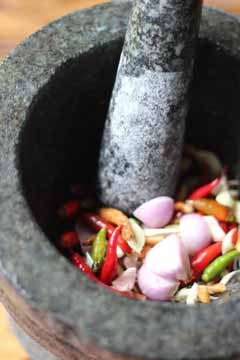 The Thai kitchen has similarities to Thai character. The preparation of food is fast and simple with no fixed formulas. Recipes may be adjusted to suit the individuals' pallet and the most important part of Thai cooking is to experiment and use your imagination. Your sense of taste and smell are very important in this process. The secret to successful Thai cooking is simple - prepare your food with love, and use only the best ingredients available.
In this class, the delightful Khun Ya will help you to prepare 5 or 6 Thai dishes out of appetizer, Thai Soup, Curry and making the paste, Noodle or Rice dishes, Thai spicy salad, Fried dishes and dessert. You can give us notice of any particular dishes you'd prefer to prepare. The recipes can be adjusted according to your religion, allergy and for vegetarians, but please let us know first. The school only runs small sized classes. You will be given a Thai recipe book after completing the course.
Some of the menus available:
Different style spring roll, chili sauce papaya salad, curry paste chicken with cashew nuts.
Meang Thai traditional snack, pad Thai, curry fish cakes, fried morning glory with oyster sauce, banana in coconut.
Satay, sauce and aubergine salad, Thai spicy salad, Thai soup, fried rice, sticky rice and mango.
Ghoon son and sauce, laab, curry fried vegetable with paste, pad Thai, coconut cake.
Golden bag with sauce, wing bean salad, Thai salad, sweet and sour fish, fried cucumber, stick rice mango.
Stuffed spring roll and pastry, curry fried noodle, shrimps with tamarind sauce, pumpkin cake.
Transportation to and from Blue Lagoon is included in the cost of 1,800 baht.