For the budget conscious or for those preferring to experience the best snorkeling on offer with the minimum of fuss, then the 4 Islands snorkeling tour run by Sattra Tour is just for you.
Key Points: Pick up time: 08:15. Drop off time: 17:30. Lunch provided. National Park Fee: 200THB. Price: 700THB, Kids half price.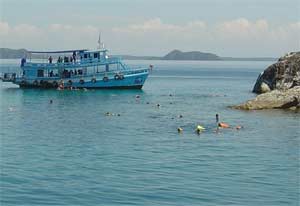 A taxi or minibus will pick you up from your resort, or from our shop, at around 8:15 AM, and you will be driven to Bang Bao and escorted to the end of the pier (Bang Bao pier is a must see anyway!) where you will be welcomed on board their traditional Thai style boat. At 9:00 AM, or thereabouts, the boat will leave the pier and head to the South West and the Koh Rang archipelago of small islands.
Whilst in the vicinity of the islands, a lunch is provided. It has been prepared on board by the cook. It is a Thai style with fish, chicken, rice, fried vegetables, fried egg. Not too spicy - you can add your own quantity of spicy sauce, to your own taste. Delicious fresh fruit follows, and beer and soft drinks are available for purchase. As well as lunch, a further 2 small snacks are provided. On our trip, some delicious barbecued squid and roast potatoes were on offer. Ice cold water, tea and coffee are freely available all day.
Snorkeling equipment and safety shirts are provided free of charge, and fins can be rented for 100 baht. The snorkeling around Koh Rang, where 3 of the stops are, is the best there is in the Koh Chang vicinity. At each stop, do ask the Sattra staff to show you where the best snorkeling spots are. They will be happy to swim with you.
Weather and sea conditions permitting, you should make 3 stops for snorkeling at the islands of Koh Yak Lek, Koh Mapring and Koh Rang. Two stops involve snorkeling from the boat, but the stop at Koh Rang gives you the opportunity to swim to the sandy beach for some relaxation. The final island is Koh Wai, where the boat will moor at the jetty to give you easy walking access to the beach of Koh Wai. There's a small resort here, with restaurant, and also a baby sea turtle farm. Each island stop is for around 45 minutes, and the boat departs Koh Wai for her return to Koh Chang at around 4:00 PM. You should arrive at Bang Bao by 5:00 PM and be back in your resort at around 5:30 PM.
This tour costs just 700 baht. Infants of 0 to 4 years are free. Half price for kids 5-9 years old. 200THB fee for entering the marine national park is not included in the price.
Click on any of the photos for gallery view.