A day trip from Koh Chang to the Oasis Dolphinarium at Laem Sing near Chantaburi. Genuinely, this is a once in a life time experience !
Key points: Pick up time: 08:00, Drop off time: 16:00. Lunch included. National Park Fee optional. Price: From 3,000THB.
You will be picked up from your hotel at about 08:30 by private car, then taken by car ferry over to the mainland for the short drive up to Oasis at Laem Sing.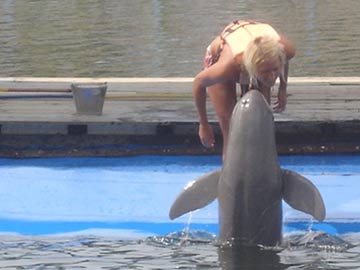 Price Guide:
To enter Oasis and see the Dolphin show: Adult 300THB, Child under 140cm: 200THB. Infants below 90cm are free.
To swim with dolphins: 2,500THB per person.
Round trip transfer Koh Chang / Oasis: 700THB per person (minimum 3 pax)
Diversion to Oasis during a transfer between Bangkok/Pattaya/Rayong and Koh Chang: 600THB for your group.
These are the retail component prices, and when you tell us the number of people in your group, we will give you a reduced price for groups of 3 or more.


Important conditions for swimming with dolphins:
Children must be over 5 years old.
You may be subject to age verification and abilities testing.|
Take a shower, remove sun cream, and wear a life jacket before going in to the water.
No long finger nails or toe nails. Trimming facilities are available.
No objects to be taken into the water with you.
You must wear a swimming suit or shorts with T-shirt with no zips or metallic attachments.
Metallic attachments to body piercings must be removed.
Do not carry a blood wound into the water.
Do not carry a contagious disease or infection into the water (full list of prohibitions is available).
Pregnant women are not allowed to take part.
Consumption of alcohol and drugs prior to swimming must be avoided.
Do not make noises or distract the dolphins in any way. No jumping or diving into the water.
Do not touch the head or blow-hole of the dolphin.
Follow the instructions of the trainer at all times.

Times:
Dolphin show: daily at 09:00, 11:00, 13:00, 15:00 and 17:00.
Dolphin swim: daily at 09:45, 11:45, 13:45 and 15:45.
All times are available even when taking the return trip from Koh Chang. Bear in mind that the transfer time between your resort on Koh Chang and Oasis is between 2 and 3 hours one-way.

Booking:
To make a booking, please contact us by email stating your preferred date(s) and time(s) along with the number of adults and number of children with their heights and ages. Please also state if you want to book a day trip from Koh Chang, or if you want to incorporate your swim with a private transfer to/from some place. To confirm bookings for the swimming activity we usually ask for full payment in advance.
Summary of the day-trip:
We call it a once in a lifetime experience, and rightly so. This is an all day trip that takes you back to the Thai mainland then a 60 minute drive up to Laem Sing and the Oasis Sea World Dolphin marine park.The highlight of the trip is the swim with a dolphin when you will experience these beautiful creatures up very close.
You will be picked up from your resort in the morning - depending upon your choice, this will be between 7am and 11am. You will enjoy a 40 minute dolphin show and afterwards you will be able to swim with one of the beautiful creatures. The dolphin's coach will teach you about the life of dolphins in general, and in particular, about the individual dolphins that you are swimming with. You can buy souvenirs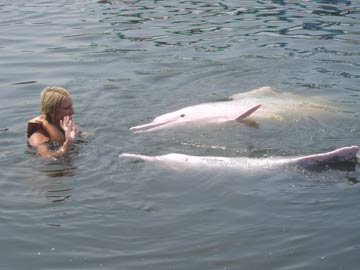 and snacks at the shop in the park. At all times your tour guide will take care of you, and if you give him your camera he will take pictures or video of you whilst you are swimming with the dolphins. Our regular price for a private group is 3,500 Baht per person including the 2-way private transfer from Koh Chang. Discounts will apply for groups of 3 or more people.
Favored Option:
Let us arrange your private transfer from Koh Chang to Bangkok (or to anywhere), or to Koh Chang from Bangkok or elsewhere, and make a stop at Laem Sing for your once in a lifetime dolphin swim. Laem Sing is around 60 minutes drive from the pier for Koh Chang, and dolphin swims are scheduled throughout the day, so this is a great option for those who do not wish to make the day trip to Laem Sing during their stay on Koh Chang. The price for this option is 2,800 Baht per person for entrance, the swim and show. Non-swimmers price: entrance to Oasis plus dolphin show - 300 Baht for adults, 200 Baht for children. Your transfer price will depend upon the size of your group.
Please drop us an email if you wish to pre-book this option prior to your arrival on Koh Chang.