A full day speedboat trip to 5 islands in the Koh Rang National Park plus a stop at monkey rocks on koh Chang. This is one of our two "extreme snorkeling" trips, giving you the most time at the best snorkeling spots that the Koh Chang archipelago can offer. The 200 baht national park fee is well worth paying.
Key Points: Pick up time: 08:30. Boat going from Kai Bae. Drop off time: 16:30. Lunch provided. National Park Fee: 200THB. Price: 1,200THB, Kids half price.
An alternative speedboat goes daily from Bang Bao making the same trip.
Full Day Snorkeling Trip by Speed Boat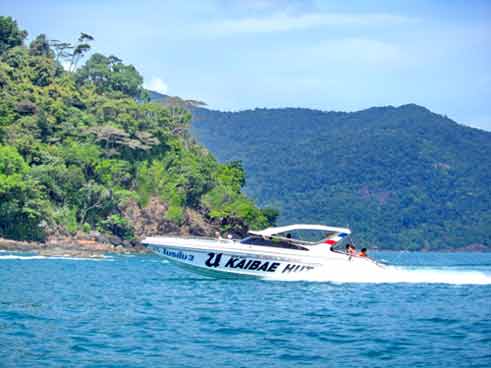 Departing every day at 9:00 AM from Kai Bae marina, this speedboat trip will take you quickly to the Koh Rang archipelago where the best snorkeling in the area can be experienced. The national park islands of Koh Rang, Koh Nok, Koh Yak, Koh Song Phi Nong and Koh Mapring is where you will find the best snorkeling with clear waters, beautiful corals and multi-colored fish and other marine life. Lunch will be taken on one of the island beaches and plentiful water, ice and fresh fruit is available all day long. Return to Kai Bae will be at around 4:00 PM. During the return to Koh Chang, there will be a stop on the South West coast where monkeys can be observed on the rocks which overhang the sea. This place is known to the tourists as Monkey Island. Snorkel and mask are available for your use, free of charge. Taxi pick up and return is also included.
The price for this trip is 1,200 baht per person, plus national park fee of 200THB. Half price for children aged 4-9 and infants go for free.
An alternative speedboat goes from Bang Bao making the same trip.
The trip includes:
Lunch - served on the beach
Water, soft drink, ice and fruit
Mask and snorkel
Car for pick up and return
Recommended price is 1,200 Baht. Half price for children aged 4-9. Age 3 and under go for free.
As this trip goes to the Koh Rang National park, there is 200THB per person national park fee which can be collected when on the boat, or paid for up front with the ticket. 100THB for under 10's.