A half day speedboat trip to 3 islands with great beaches and snorkeling spots not so far away from Koh Chang. This trip does not go to the Koh Rang national park, but great snorkeling and 3 great beaches nevertheless.
Key Points: Morning and afternoon trips: 1. Pick up time 08:15, Drop off time 13:00, Lunch provided. 2. Pick up time 12:15, Drop off time 17:00, Snack provided. National Park Fee: no. Price: 800THB, Kids half price.
For early risers, a taxi or minibus will pick you up from your resort at around 8:15 AM, or for those who like a long lie-in there's an afternoon trip with pick up at around 12:15pm. The taxi will take you to Bang Bao where the speedboat starts from at the end of the pier.
The island stops for beautiful beaches are Koh Klum, Koh Wai and Koh Laoya. The snorkel stop is at a popular dive site called Hin Rap where there are beautiful tropical fish and corals - update for 2018/19 - Hin Rap is off the itinerary.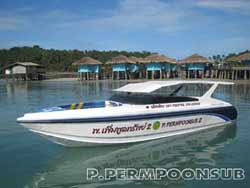 A packed lunch is included on the morning trip, and a snack is provided on the afternoon trip and these can be enjoyed during one of the beach stops.
Just before arrival back at Bang Bao, we'll make a stop to see the monkeys who hang out on the rocks close by. Back to the pier at Bang Bao shortly afterwards so you'll be back to your hotel by around 1pm (morning trip) or 5pm (afternoon trip).
This tour costs just 800 baht. Infants up to 2 years old are free. Half price for kids 3-10 years old. There is no national park fee to pay on this trip. Discounts are sometimes available for big groups.