Take the THAI FUN Day Cruise from Blue Ocean Cruises Co Ltd for this first class sight-seeing and snorkeling trip. 15 tropical Islands can be seen on this cruise. You will stop a minimum of 2 times for coral reef snorkeling and also there is a minimum of 2 island stop-overs.
Key Points: Pick up time: 08:15. Drop off time: 18:00. Lunch provided. National Park Fee: 200THB. Price: 1,490THB, Kids half price.
Your typical day cruise on board the thai fun:
The Thai Fun is a 24 meter 2 deck ship, with both enclosed and outside accommodation. You will be picked up from the beach at your resort at around 8:15 AM by the Thai Fun's own small small boat. You will then be ferried to the Thai Fun which has stopped a short distance from the beach. From resorts without beach access, or for operational reasons, you will be picked up by taxi to be taken to a nearby beach to join the boat.
Whilst cruising to make the other passenger pickups you will be offered tea of coffee or other light refreshments. The Thai Fun will then head in a Southerly direction, passing the West coast of Koh Chang, past Bang Bao, past Koh Klum, then towards Koh Wai. Here there is a stop at the jetty close to the Koh Wai Paradise resort. You can either snorkel in the coral waters, or relax on the beach, or take some refreshments in the restaurant of the resort.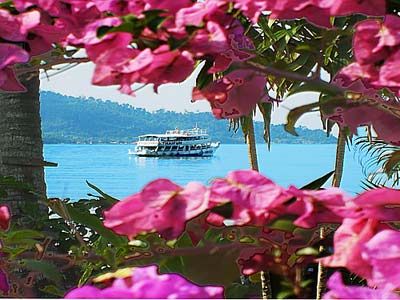 Following 45 minutes or so at Koh Wai, the Thai Fun will head towards Koh Mak. During this time a buffet lunch is served, and there is a choice of either medium-spicy Thai style or Italian style food on offer.
The Thai Fun will next stop by dropping anchor off the beach at the Koh Mak Resort. Should you wish to snorkel here, then you can do so by entering the sea via the Thai Fun's ladder. You also have the option of going ashore by small boat, for further relaxation.
Following an hour or so at Koh Mak, the Thai Fun will next set sail towards Koh Rang. If you are only going to snorkel at one spot on this trip, then the stopping point near Koh Rang is the place to do it. The sea here is usually crystal clear, and some areas have unspoiled coral of many colours. Tropical fish abound here. You will have around one hour of snorkeling time at this location. Please note that whilst at the Koh Rang National park, the park guards will collect 200 Baht in tax from you (reduced tax for children and for Thai nationals).
At around 4:30 PM, the Thai Fun will set sail for her return to Koh Chang. On reaching Koh Chang, the boat will stop at monkey rocks where you can see monkeys run down to the water's edge. During the cruise back you should indulge yourself in an ice cool beer or other refreshment from the well stocked bar on board the vessel. The Thai Fun will dispatch her customers back to their resorts, by small boat. You should be back at your resort at around 6:00 PM.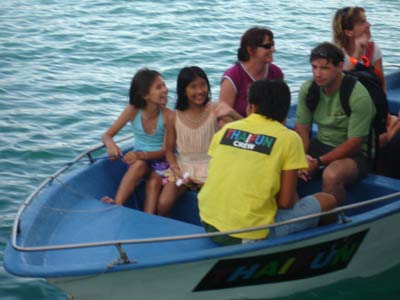 IN SUMMARY
The Thai Fun day cruise gives you a fun filled day in a relaxed atmosphere. The English speaking staff are helpful, courteous and amusing. For your comfort there is a sundeck, there are deckchairs, a swimming platform with steps to the sea, there is a fresh water shower, a western toilet. Top quality silicon snorkel masks and snorkels are provided. Safety shirts, life-boats and insurance are provided for your safety.
STOP-OVERS!
Should you wish to make a stop-over at either Koh Wai, Koh Mak, or Koh Kham, then the Thai Fun is your ideal transportation to those islands. You can split your Thai Fun Cruise over 2 separate days. For example, depart Koh Chang on the Thai Fun on Monday. Dis-embark at Koh Mak on Monday at midday. Stay at Koh Mak for 2 nights (or more, or fewer nights). Pick up the Thai Fun from Koh Mak on Wednesday midday. Make the remainder of the Thai Fun cruise, arriving back at Koh Chang 6:00 PM. Please see our accommodation section for resorts at Koh Wai, Koh Mak, or Koh Kham (from Koh Mak). So much more fun than a taxi boat from Bang Bao - AND THE PRICE BY THE THAI FUN IS JUST A FEW BAHT MORE THAN FOR A RETURN TRIP BY TAXI BOAT!
The Thai Fun Day trip costs 1,490 baht per person. The same price applies even if you have stop-overs on both Koh Wai and Koh Mak. Children of 8 years and below go for half price. The Marine National Park fee of 200 baht is usually added to the ticket price, but can be paid on the day if you prefer .