This is a short trek with Suthanai of Jungle Fever, usually taken in the afternoons, going up to the first and second levels of the Klong Plu waterfall.
Key Points: Pick up time: 13:00. Drop off time: 17:00. Price: 800THB. National park fee: Included. Kids reductions: half price. Days: Mon, Wed, Fri.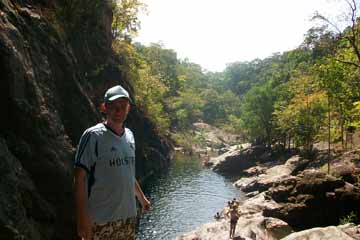 A fairly easy trek of about 4 kilometers, with some climbing and up to about 4 hours in duration. You'll see plenty of flora and fauna including orchids, ferns and vines, some reptiles, the Koh Chang frog, and plenty of beautiful birds. Up on the second tier of the waterfall the water is much clearer and few people go this high.
Included: 2-way transportation, loan of backpack, mosquito repellent, water, small snack, and National Park fee.
Normally this trip goes on Monday, Wednesday and Friday afternoons. Other days and morning trips can sometimes be accommodated.