For the cheapest trip to 5 islands, consider taking the snorkeling tour run by Perm Poon Sub. In 2010, the same boat was doing a 4 islands tour. The boat has now been upgraded, and has some comfy chairs and cooling fans in an enclosed area. The boat still has sun decks also, so you can easily top up your sun tan.
Key Points: Pick up time: 08:15. Drop off time: 17:30. Lunch provided. National Park Fee: 200THB. Price: 850THB, Kids half price.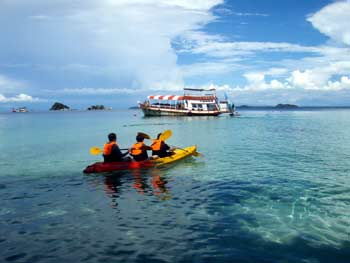 A taxi or minibus will pick you up from your resort, or from our office, at around 8:10 AM, and you will be driven to Bang Bao fishing village then escorted to the end of the pier (Bang Bao pier is a must see anyway!) where you will be welcomed on board the Perm Poon Sub traditional Thai style boat. At 9:00 AM, the boat will leave the pier and head to the South West and the Koh Rang archipelago of small islands. The first stop is at the small rocky island of Koh Yak Lek for some great snorkeling where multi-colored fish and corals are clearly visible. Then on to Koh Map Ring for some more of the same. At Koh Rang, it is possible to swim to the beautiful white sand beach, or you could take one of the kayaks there. Afterwards, it's another short distance to Koh Yak Yai and another small island for yet more beautiful snorkeling.
In between island stops, a barbecue lunch is cooked, and more snacks are available during the afternoon. On our trip, some delicious barbecued squid and roast potatoes were on offer. Coffee and water are freely available all day, and at the bar you can buy buy other soft drinks and beers.
Snorkeling equipment and safety shirts are provided free of charge, and fins can be rented for 100 baht. The boat has some kayaks that can be used if you need to take a rest from the snorkeling. The snorkeling around Koh Rang, is the best there is in the Koh Chang vicinity, so at each stop, do ask the Perm Poon Sub staff to show you where the best snorkeling spots are. They will be happy to swim with you. Each island stop is for around 45 to 60 minutes, and the boat will arrive back on Koh Chang at about 5pm, so you'll be back at your resort at around 5:30pm.
This tour costs just 850 baht. National Park fee of 200THB per person is payable when you're at the national park islands. Half price for children aged 4 to 10 years. Infants of 3 years and below go for free.
Click on any of the images for a gallery view.